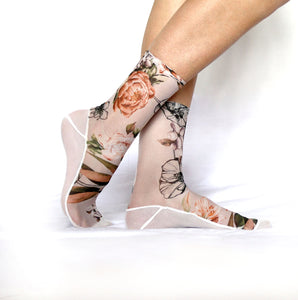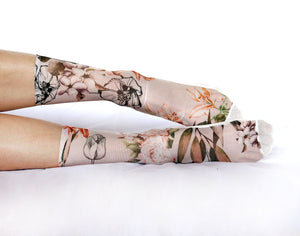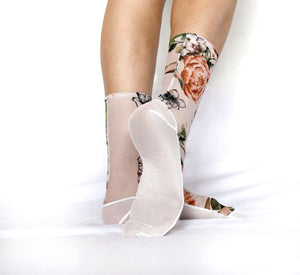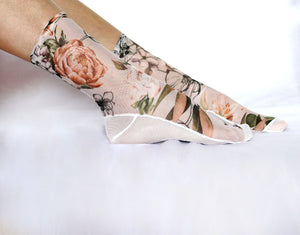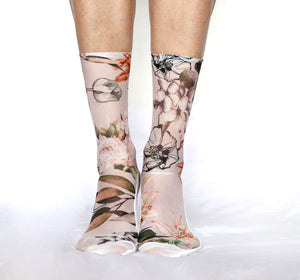 Description
- Handmade with pretty floral and off white stretch mesh fabric.
- Handcut and crafted to fit your feet perfectly
- Soft, comfortable and look so pretty on!

Note that because of the large scale of print, the pattern on your socks may look slightly different from the photo. I handcut material myself and always keep in mind the best print placement for you.

Available in sizes: Small. Medium, Large

SMALL fits: US: 6 - 7.5, EU: 35.5 - 37.5, UK: 4 - 5.5

MEDIUM fits: US: 8 - 9.5, EU: 38 - 40.5, UK: 5.5 - 7

LARGE fits US: 10 - 12.5, EU: 42 - 45, UK: 8 -10.5

Please ensure your measurements are accurate before placing your order.

Refer to the size charts below for guidance.

Feel free to reach out if you have any questions or need assistance in determining the best size for you. I'm here to help.

Socks Size Chart
SMALL fits: US: 6 - 7.5,  EU: 35.5 - 37.5,  UK: 4 - 5.5

MEDIUM fits: US: 8 - 9.5,  EU: 38 - 40.5,  UK: 5.5 - 7

LARGE fits:  US: 10 - 12.5,  EU: 42 - 45,  UK: 8 -10.5
---